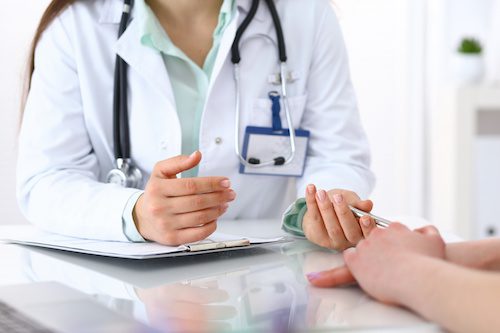 Getting the Most from Your Medical Appointment
Being an active participant in your healthcare is essential for getting the most from your medical appointment. The suggestions below may help. Be assured that our office is committed to helping you to be as healthy as you can be!
1. Ask questions. Your appointment is all about you! Ask any questions that will clarify your treatment, educate you on your health conditions, or help you feel at ease. It's a good idea to write down your list of questions and concerns before you visit the doctor, to ensure you are getting the most from your medical appointment.
Some examples of questions include: What symptoms should I watch for? Is there anything I should avoid during treatment? Are there other treatments available besides what you recommend?
2. Be honest. Your medical practitioner is there to help, not judge. Be honest about your habits and prepare to disclose anything that could be affecting your health. If you are forgetting to take your medication or don't like the side effects, be honest! Your doctor will do as much as they can to work with you.
3. Discuss all health factors. Getting the most from your medical appointment requires you to be clear and specific about any symptoms or health concerns you have. Even if you may believe it's irrelevant or insignificant, it's important to review it with your doctor. Volunteer information even if you're not specifically asked about it — it could still be useful. Disclose your family medical history to develop a proactive healthcare plan.
4. Ask for a recap of each appointment. A lot can be covered in one doctor's visit. It may be difficult to keep track of all the relevant information. For getting the most from your
medical appointment, ask your doctor for a final summary of what you've discussed. It's helpful to take notes in your own words. Reviewing those notes later can help you remember the important details.
5. Don't forget to follow up. It's important to regularly check in with your healthcare team, especially after your visit. You may have follow up labs, x-rays, tests, therapy, or medicine. This is also a good time to notify them of progress in your treatment, or if necessary, get another appointment so that they can reevaluate and fine tune the treatment plan for even better results.
Call our office if we can help. As a healthcare provider, we are committed to help you toward being your healthiest self, including getting the most from your medical appointment.
https://shenclinic.org/wp-content/uploads/2021/03/AdobeStock_205947089-1.jpeg
333
500
Lindsay Shifflett
/wp-content/themes/shenclinic-enfold-child/images/shenclinic-logo.svg
Lindsay Shifflett
2021-03-05 08:36:17
2021-03-05 08:36:17
Getting the Most from Your Medical Appointment